Control your doors and gates from
anywhere with your mobile phone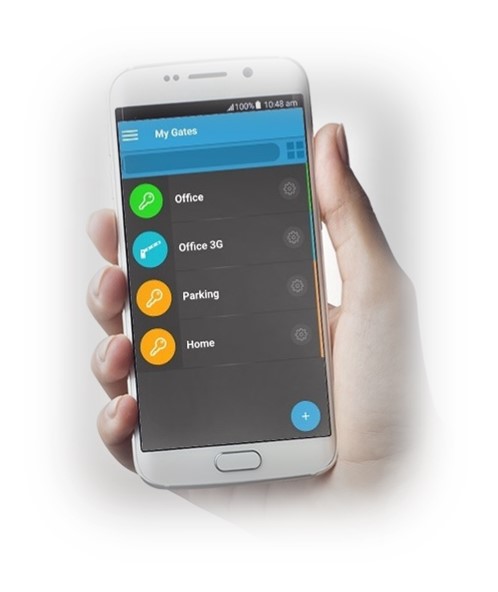 Never use a key or remote control ever again to open your doors and gates.
This system can be used with your smart phones voice activation.
How The Palgate System Works
Firstly, let us know what you need controlling.
Whether it be a single door or gate through to multiple doors or gates.
We then tailor a system to suit you needs.
You provide us with the required information and we completely set the system up, ready for use.
We provide the complete system package that includes all hardware and devices along with all SIM card data plans.

Once the system is setup we can either supply or fully install the system device to any automation system that needs controlling. 

To operate the system, simply download the App to your smart phone. Once the app is installed, any doors or gates you are authorised to use will appear on your screen.
You are now ready for operation.
The System
Undoubtedly one of the most unique systems on the market.
This system hosts a variety of devices that can cover almost any application. 
System Management
Limited system management can be done through the free mobile phone app.
Functionality through the mobile phone app gives the ability to add and delete users along with manager options for history and log tracking,
Advanced system management
through the Palgate Web Portal
gives full functionality.
All of the Palgate devices have the ability for full history and log tracking so you can see who is coming and going.
The Palgate system uses 128Bit Military grade encryption communication that is safe and secure.
System Flexibility
A single 3G/4G Palgate device can support several different combinations to suit any application.
All of the Palgate devices can be operated by the mobile phone app and or administered by the Web Portal.

System Advantages
* Ease of operation
* Full history and log rracking (Phone App and Web Portal)
* Complete control over all of your doors and Gates
* Complete control over who's authorised to enter
* Complete control over entry and exit time zones
* Unlimited number of users
* Unlimited number of devices
* Create timer events (door open 7am – door close 7pm)
* Create time groups (personnel access at certain times)
* Create Calendars for timer events
System Packages We Provide
AAI Standard Palgate System Package
The AAI Standard Palgate System is a 12 month subscription Access Control System.
What we provide:
* Fully tailored system to suit customer application requirements
* All Palgate hardware and electronic devices (cards, window labels and remote controls sold separately)
* All SIM cards and data plans included
* On-going equipment maintenance and upgrade's (where required)
* Complete system setup, support and training (on-site or remote)
* Ongoing support for any system changes you require (contact us with your requirements for same day changes)
What you get:
* Free mobile phone App
* Ability to operate all doors and gates you are authorised to use
* Ability to add and delete users
* Ability to assign administrators or non admin standard users
* Full history tracking so you can see who's been in or out
Australian Automation Innovation Pty Ltd provide the complete system based on a 12 month subscription basis. 
The 1st year subscription fee is required on initial system setup. Annual Renewal notice and invoice will be issued 1 month prior to expiry 
Contact us for pricing on the AAI Standard Palgate System
AAI Premium Palgate System Package
The AAI Premium Palgate System is a 12 month subscription Access Control System.
What we provide:
* Fully tailored system to suit customer application requirements
* All Palgate hardware and electronic devices (cards, window labels and remote controls sold separately)
* All SIM cards and data plans included
* On-going equipment maintenance and upgrades (where required)
* Complete system setup, support and training (on-site or remote)
* Ongoing support for any system changes you require (contact us with your requirements for same day changes)
What you get:
* Free mobile phone App
* Ability to operate all doors and gates you are authorised to use
* Web Portal Access with your own user log-in credentials
* Full Administrator control
* Ability to add and delete users. Assign administrators or non admin standard users (via phone app or web portal)
* Full history tracking so you can see who's been in or out
* Ability to create timers, timer groups, calendar timers
* System health, all device locations and status, system charts for phone and voltage signal strength
Australian Automation Innovation Pty Ltd provide the complete system based on a 12 month subscription basis. 
The 1st year subscription fee is required on initial system setup. Annual Renewal notice & invoice will be issued 1 month prior to expiry
Contact us for pricing on the AAI Premium Palgate System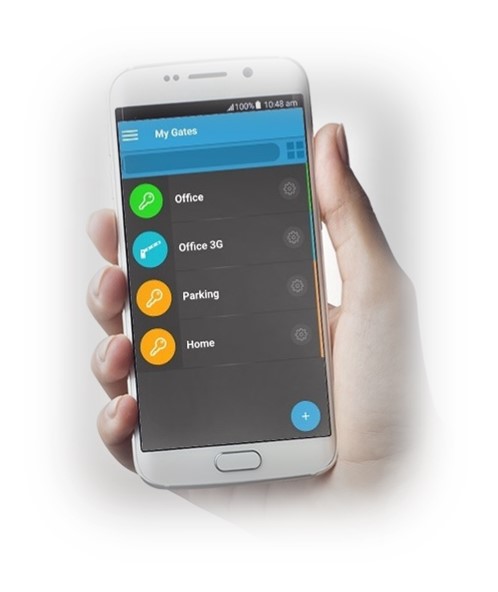 Palgate Mobile Phone App
Easy to download and easy to install
Download and install the app from your App Store (Type in Palgate)
1 Follow install prompts 
2 Enter your location
3 Enter your mobile phone number
4 Enter your 5 Digit verification code (received by SMS)
5 Enter your name
6 The app is ready for use and your doors and gates will be ready to operate
Contact us for pricing and what the Palgate system can do for you.
Click Here to Contact Us