Boom Gates
Boom Gates Products and Services

Our products range from basic low cycle boom gates to an advanced fully programmable variable speed barrier.
Beam lengths range from 2 metres to 8 metres with either single piece or modular section beams & LED Lights.
Combine our barriers with our extensive range of safety & activation sensors, Access control systems,
Long range remote controls & switching devices will complete any project requirements.
More information about our products and services:
The benefits of having a boom gate at your premises are simply innumerable. But the following are some of the main ones that you can expect as a residential, commercial or industrial property owner:
Boom gates are designed to provide safe and authenticated access to residential areas, commercial properties and parking premises. With a metal block and pole that are operated electronically, the gate can block any unidentified vehicles at the entry and exit gates.
Car Park boom gates can be very beneficial, while they can also be installed in hospitals, hotels, shopping centers, commercial buildings, industrial sites and even apartment complexes. With the liberty to approve or deny access into your property, the security of your premises or compound is greatly enhanced creating a reduced risk of intruders with bad intentions.
Boom barriers can provide a convenient way of controlling the flow of traffic on and off your commercial property. This is very important especially if your property attracts many visitors with vehicles but has limited parking space. You will be able to control the number of vehicles at your premises at a given time as well as prevent further entry when the parking is full.
Boom systems are usually more economical in terms of spaces compared with swing or sliding gates. Our barriers take up a small amount of horizontal and vertical space to swing and provide the required barrier. Combine that with the ease of installation, making these types of barriers a great choice for controlling the entry points to your property.
As a property owner, you'll only incur a one-off cost to put up a boom barrier with very limited maintenance costs required after that. There will be no need to have a security guard manning your gate. Therefore you will make significant money savings in the long run while still enjoying effective control of vehicular access to your property.
Here is a list of the types of boom gates we offer, their specifications and intended uses:
FAAC B680H Boom Gate / Barrier
Stretching 3 to 8 metres long, the FAAC B680H is a barrier with great hydraulic technology, suited to heavy-duty hi frequency use. It comes with a 24b DC power tank, 6 programmable outputs and 2 integrated loop detectors plus optimal integrated LED traffic lights. This barrier can be used in such high frequency applications as car parks and toll ways.
Genius 524 Barrier
Designed with a beam length of between 2 and 5 meters with heavy-duty hi frequency, the Genius 524 is a barrier that's designed to provide reliable and consistent use in high-traffic areas. It comes with a removable 24v DC power pack, 100% duty cycle and a kit with optimal integrated LED traffic light. It also comes with articulated beams and boasts of 4 to 8 cycle times. The barrier can be suitable garage entrances/ exits, parking lots and industrial zones.
Genius 724 Boom Gate
The Genius 724 barrier is similar to the Genius 524. The only difference is that the 724 has a beam with maximum length of 7 meters and boasts 7 to 11 seconds cycle times. Just like the Genius 524, the 724 Genius can be used in a range of applications including parking lots, industrial zones and garage entrances and exits.
Tousek Boom Gate
Designed for heavy-duty applications, the Tousek is a gate barrier that runs in an oil bath, resulting in 100 percent duty cycle. It comes with a maximum boom length of 6 metres and boasts of 240vDC electro-mechanical drive system. Tousek Boom can be used in toll ways, commercial property entries as well as construction sites.
Stagnoli Daphne Boom Gate
This 4-meter long gate comes with high-quality automatic barrier design and is perfect for hi traffic intensity applications. Designed with 24v DC low-voltage electromechanical drive system, optimal articulated beams and optimal folding skirts, the Stagnoli Daphne is ideal for office car park entries and apartment buildings.
FAAC 614 Series Boom Gate
The FAAC 614 is a 5-meter heavy duty boom barrier, offering the option of round or rectangular beams. The barrier comes with 24vDC electromechanical system and 100 percent duty cycle that allows for continuous operation. FAAC 614's motor has an integrated decoder and offers maximum anti-crushing safety. It can be used for light applications in both residential and commercial properties.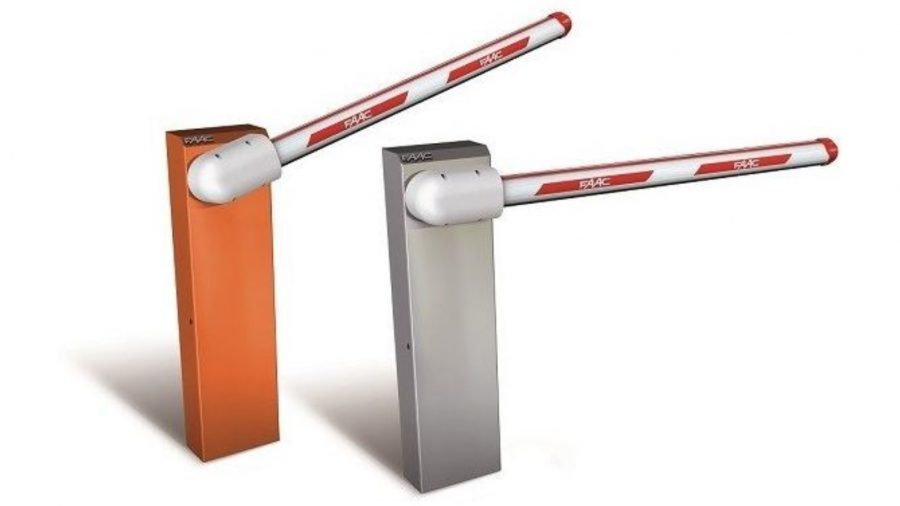 FAAC 615 Series Boom Gate
The FAAC 615 is a standard hydraulic boom barrier designed for light to medium traffic applications. The barrier, whose bean stretches up to a maximum of 5 meters, has 70 percent duty cycle and 240v AC hydraulic drive or locking system. That's just perfect for use in residential garage entrance or commercial car park.
Genius Spin Series Boom
With a beam length of up to 5 metres and a 240vAC eletro-mechanical limit switches; the Genius Spin is a heavy duty gate barrier that can be ideal for medium traffic applications. The barrier boasts 70 percent duty cycle, optimal articulated beams and optimal accessories LED kits.
We are Australia's number one choice for Boom Gate Supply and Installation
At Australian Automation Innovation, we are experts in boom gates and automated accessories installation. We have more than 30 years of combined experience in the industry, something that promises our customers of nothing but superior quality automation products and services. Furthermore, our services are spread across Australia, including all major cities and rural areas.
Other reasons why we are considered one of the best boom gates suppliers in Australia include:
-We have a full team of technicians, electricians, data and access controllers etc. that can complete any boom gate installation job
-We supply and install boom gates for residential, commercial and industrial customers
-Our boom gates supply and installation services are reasonably priced
-We assure customers of 100 percent satisfaction
Boom Gates Repair and Maintenance
Our team of experts is always ready to take on any boom gate repair job. Whether it's the electronic control panel, the padlock fixing points or LED lights that have a problem, we can fix your barrier system just in time for you get it back to operation.
Automation of access points for homes and commercial properties is something that comes with many benefits. Aside from tightening security and enhancing safety, automation increases convenience in terms of getting into and out of your property.
For quick, professional and reliable boom gates installation, repair or maintenance service feel free to contact us now. You can reach us via 0418 758 247 to request a free quote or ask more about our service.
Our Service Areas
Melbourne – Sydney – Adelaide – Brisbane – Darwin – Hobart