Home
About Us
Services
Portfolio
Cart
Contact
Product Categories
Access Control
Boom Gates
Boom Gate Hire
Barriers
Bollards
Controllers & Electronics
Door Automation
Garage Door Automation
Gate Automation
Sensors
Transmitters & Receivers
Boom Barrier Service and Maintenance
Maintenance Needs
Boom gates are sophisticated automation systems, but there are times it may encounter several issues requiring boom gate repairs, including:
a faulty electronic control panel
busted LED lights
padlock fixing points not operating properly
When you encounter these problems, you'll need the help of qualified and highly trained technicians who can accurately and effectively take on any boom gate repair job. You cannot ignore these issues because it will lead to more costly repairs or you may even be obliged to replace damaged parts in the long run.
That is why we recommend that you immediately get in touch with an automation specialist who has the knowledge and expertise to maintain these devices. It is more cost-effective to run preventive maintenance than conducting full extensive repairs on your boom gates.
Australian Automation Services
When you need boom gate repairs you need a maintenance specialist. And there's only one name you can trust – Australian Automation Innovation. We are experts in boom gates and automated accessories installation and maintenance. In fact, we have 3 decades of combined experience in this field that we can guarantee our clients of nothing but superior quality automation services and products.
We are also capable of servicing several major cities and rural areas in Australia such as Melbourne, Hobart, Adelaide and Brisbane. We have a full team of electricians, technicians, data and access controllers who can seamlessly complete any type of boom gate and barrier installation job. So, when you hire us for any of your automation projects, you will have a full roster of specialists on your side that will guide you through the whole process.
On top of that, our boom gates maintenance and repair services are reasonably priced. Also, we can also guarantee that we will deliver nothing but exceptional results that will exceed your expectations.
More information about our Products and Services
Australian Automation Innovation is the leading provider of automated systems and low-cost technologies that are now being used to secure commercial, industrial, and private properties. These automation systems are essential when monitoring people, vehicles and securing the property from unlawful intrusion.
In fact, this technology is invaluable to various commercial properties that require restricted access to some of their important facilities. For this purpose, we offer a team of highly skilled technicians who can install boom gates, boom barriers, and other door automation systems anywhere in your property.
When you hire us for any of your projects, you can be sure that you're dealing with the right people in this field. We have over 30 years of experience in the industry, and we have partnered with reputable products manufacturers that can provide high-quality products and services that last.
The benefits of having a boom gate
Boom gates are invaluable security assets that can effectively block suspicious pedestrians or unidentified vehicles from entering commercial premises. So, whether you're running a resort, shopping mall, hotel, apartment complex, or office building, you will need this automation system to have complete access control of your premises.
Having boom gates in your property will help you save on security costs since you longer need to hire security personnel who will man each checkpoint in your premises. You'll also have better traffic control over vehicles that are coming in and out of your parking area, and this can improve the privacy of your clients who are currently using your facilities.
Most importantly, it is a long-lasting solution against security threats and keeping the safety and well-being of both your employees and clients who are currently inside your property.
Here is a list of the types of boom gates we offer, their specifications and intended uses:
FAAC B680H Boom Gate / Barrier
3-8 metres in length

Hydraulic technology

Heavy-duty hi frequency use

24b DC power tank,

6 programmable outputs

2 integrated loop detectors

Intended uses – car parks and toll ways
Genius 524 Barrier
Beam length between 2 and 5 meters

Heavy-duty hi frequency use

Reliable and consistent use in high-traffic areas.

Removable 24v DC power pack

100% duty cycle and a kit

Optimal integrated LED traffic light

articulated beams

4 to 8 cycle times

Intended uses -Garage entry/ exits, parking lots and industrial zones.
Genius 724 Boom Gate
Maximum beam length of 7 meters

7 to 11 seconds cycle times

Heavy duty use
24v removable power pack
Integrated traffic lights

Applications – parking lots, industrial zones and garage entrances and exits.
Tousek Boom Gate
Heavy-duty applications

Maximum boom length of 6 metres

240vDC electro-mechanical drive system

Tousek Boom can be used in toll ways, commercial property entries as well as construction sites.
Stagnoli Daphne Boom Gate
4-meter long gate comes

High-quality automatic barrier design

High intensity applications

24v DC low-voltage electromechanical drive system

Optimal articulated beams

optimal folding skirts, the Stagnoli Daphne

Ideal for office car park entries and apartment buildings.
FAAC 614 Series Boom Gate
5-meter heavy duty boom barrier

Option of round or rectangular beams

24vDC electromechanical system

100 percent duty cycle that allows for continuous operation

Integrated decoder

Offers maximum anti-crushing safety

Light applications in both residential and commercial properties.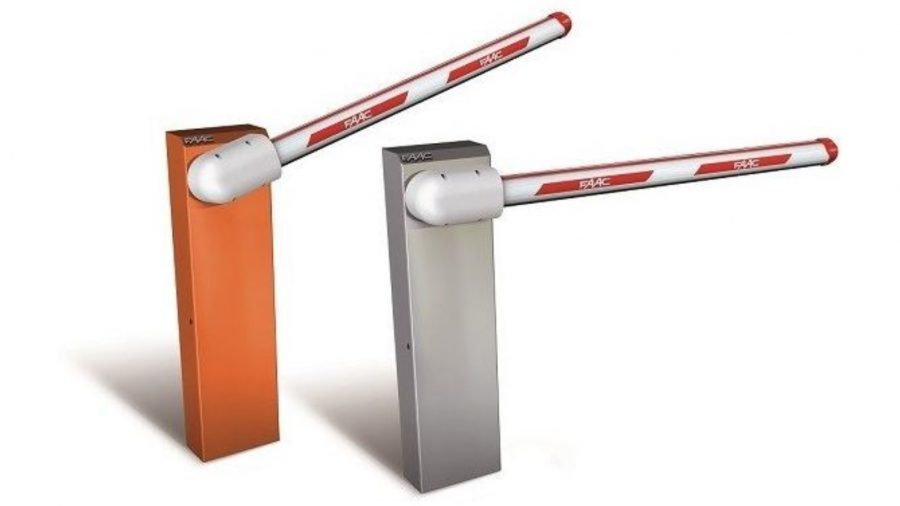 FAAC 615 Series Boom Gate
Standard hydraulic boom barrier

Light to medium traffic applications.

Maximum of 5 meter beam length

70 percent duty cycle

240v AC hydraulic drive or locking system

Perfect for use in residential garage entrance or commercial car park.
Genius Spin Series Boom
Beam length of up to 5 metres

240vAC eletro-mechanical limit switches

Heavy duty gate barrier I

Ideal for medium traffic applications

The barrier boasts 70 percent duty cycle

Optimal articulated beams

Optimal accessories LED kits